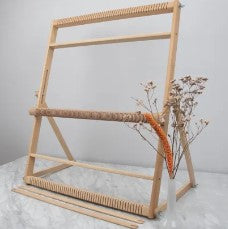 Funem Extra Large Weaving Loom
This Weaving Loom is made from a fine quality beech wood.  It can be easily  assembled and disassembled for easy transportation.  Because of its large warping area, you can create very big wall hangings, pillow covers, scarves, etc.  
Includes: all parts to assemble the loom, easy assembly instructions, a drawstring bag to securely pack all parts, and a sturdy and adjustable stand to place the loom upright.  
64x53x6cm/25x21x2,4inch  Sett/epi: 8 threads per inch, 7mm/0.3 inch between each notch